BOYS TENNIS TEAM SECURES FIRST WIN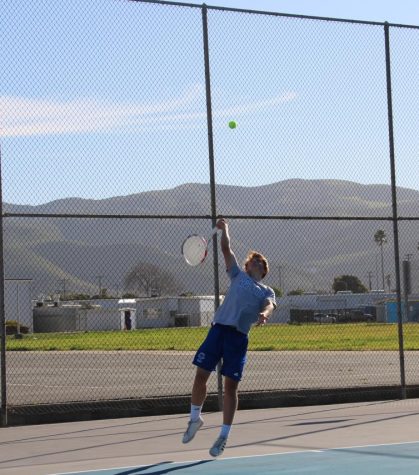 It was a tough start in the season for our varsity tennis team. But after three consecutive losses, on Wednesday the Braves could finally celebrate their first win of the season against Righetti. And it was a clear one. 
As Righetti only came with seven players, the coaches and captains agreed on playing with the northern section rules, meaning they would play 6 singles and 3 doubles.
In other words, our players would have 9 opportunities for Lompoc's redemption.
Single games:
Our Braves, going into the match as the underdogs, started the match day very strong by winning five of the six single games and already securing the overall victory before the doubles.

Team captain and #1 seeded Jasper Sandvoss won the first set against Righetti's best player very quickly and dominated the game in the 2nd set (6-0, 6-3). Danilo Stanojević, Lompoc's #2 seeded player, stays undefeated in singles this season. He secured the win in a close game with a final score of 6-4, 6-3.
The closest and most entertaining single match was played by Freshman Piper Hierholzer. While the other players were preparing for their double games he was still in the middle of his match, which in the end took almost 2 hours! Unfortunately, after 3 sets and a lot of great tennis, Righetti's #3 player would celebrate the victory over him (6-3, 1-6, 4-6). But, Piper is young and has great potential, he will get a lot more wins this season. 
Charlie Soukop, our #4 singles player, is playing his first year of tennis too, yet instantly became one of the leaders of the team. He was dominating his match from the first point on until the end. His 6-2, 6-0 victory was never in real danger, when his serves came well and his opponent didn't stand a chance. 
Just like Charlie, our #5 and #6 seeded singles could celebrate clear victories. Kevin Montalban beat his opponent 6-2, 6-1, and Isaiah Hilario's scoreboard showed 6-2, 6-3 after his match point. For both, it was the first singles win of the season and they can take a lot of positive energy and momentum into the league games starting next week!