Looking to Lead?
Join Lompoc High's Link Leadership team!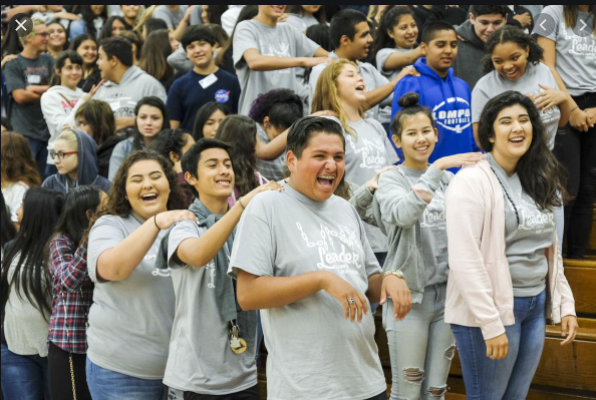 JUNIORS AND SENIORS!!! Have you ever thought about joining Lompoc High school's Link Leadership class? Link is a class, full of leaders that welcome our incoming Freshman annually and direct them to the right paths of being successful students. The Link Crew hosts games, "icebreakers", during lunch and will sometimes give out ice creams! They will also host a variety of fun activities for the LHS students. During the pandemic, Link decided to host a few drive-thrus. The freshman class were welcome to come pick up goodies and snacks that they enjoy as a welcoming gift. Mallory Branum, a junior and an LHS Link Leader, smiled when she said "It's fun! To be honest, the drive-thrus turned out good. And I like to see other kids smiling, so it's all worth it." Although it may be fun to host drive-thrus and other events, it isn't easy. During an interview, Branum explained that "It's much harder because you're not face to face, sharing your ideas and opinions. But, once we got to be in the classroom again it felt like a huge relief." 
Junior Shantel Gonzalez, another Link member, explained how much being in Link has changed her life. "It's a fun and honest class … we mainly focus on the incoming freshmen, but Mrs. Terrones makes sure we are enjoying ourselves and makes it fun for us as well. I got to know people that I probably wouldn't have talked to if I wasn't in Link." Normally, Link students get to do more activities such as assemblies, rallies, fun group activities, and many more exciting things. However, the Covid-19 pandemic has limited the opportunities that Link gets to do, but they push forward and try to make the most out of it! 
After hearing about this class are you ready to take on the leadership role?