LHS Sapphire Dance Team carries on through the disappointments and challenges of distance learning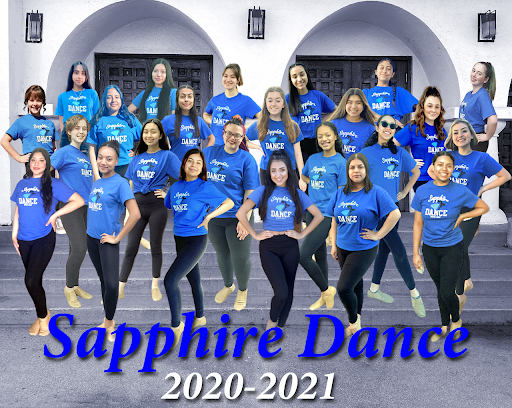 Codi Cossman, Copy Editor
March 11, 2021
Sapphire, our school's elite and competitive dance team, is making the best out of a difficult situation. Normally, they'd perform at community events in Lompoc and compete all over Southern California. But now, with Covid-19 restrictions in place, the team is forced to stay home and endure the harsh reality of not having enough space.
Naturally, heartbreak and longing start to form. "I really miss interacting with my students face to face and talking with them – hearing their stories, and their jokes – I really miss that." Mrs. Jansen says. She's the Sapphire Dance Team's coach, having founded the team eight years ago. "Sapphire Dance is one of the greatest ideas I've had in my career. The dancers genuinely care about each other and help each other improve day by day. We learn from each other on and off the stage and support each other in everything we do." Mrs. Jansen tells us. Their connection and sisterhood is universal. Alexandria Corn (AKA Alex), a four year Sapphire and two year team captain, agrees when she says, "Being a part of Sapphire has been a wonderful experience. When I first joined the team, I didn't have any friends. However,  when I joined the team they didn't only become my friends, they became my sisters. There's ups and downs of course but the bond we've had in the past is truly amazing. This year it's a bit hard to build a bond since we are all online. But I think the team has helped me grow not only as a person but a leader."
Even with their longing for the stage and for each other, they find ways to stay motivated. Their aforementioned coach, Mrs. Jansen, goes running twice a week to keep in shape. In addition, she provides her team with fun warm ups, strength exercises, and stretching videos. Codi Cossman, a Sophomore and two year Sapphire, is also trying to help get the team back in shape. Codi came up with the idea for weekly strength training sessions. She hosted the team's first session on Wednesday, March 3rd. Codi's dad, a personal trainer and owner of JoshFit, has created a workout routine specific to the team's needs. Codi hosts strength training sessions twice a week to demonstrate the workout routine. "I know that a lot of sports teams have 'workout days', and I thought that we should too." Codi says, "This will be a great way to get back in shape but have fun doing it!" The team is not only excited for more strength training sessions but also about learning from top choreographers on CLI Studios! Due to these motivators, our dancers are realizing that: even though things are different, new and challenging, they don't need to be bad.
As of February 12, our beloved Sappies (a nickname given to Sapphire Dance Team members by their coach Mrs. Jansen) started working on a new routine called Intergalactic from CLI Studios. Emily Thao, an LHS Junior who's been on Sapphire since Freshman year, notes the challenges of realizing this routine: "It was difficult to learn from watching videos and from zoom. I had a hard time being motivated to dance and learning it on my own. I didn't want to be behind, so I wanted to work hard even though it's not perfect and we won't get to perform it. All that matters is that I had fun and it gave me something to look forward to."
Few people know of the struggle that takes place behind the scenes. Our dancers are trying their best to get used to the limited space they have. But, it's difficult to go from having the entire cafeteria to just a small bedroom. The Sapphire Dance Team not only misses being able to dance without confinement, but they also yearn for a purpose. They miss having an audience to dance for, whether it be fans at a football game, friends and family at a dance show, or judges at a competition. They want to dance for people and know that they did something- that they made someone feel something. They want to know that they made a difference in someone's life. But with no audience, the thrill and the accomplishment start to fade away. Even assembling the final video proves to be difficult. "It's going to be quite a challenge for me to put 25 dancers in one video." Mrs. Jansen tells us, "It takes me a good seven to eight hours, for each video that I work on." The team's previous virtual performances only had a few dancers in each video. So, the grueling task of putting all 25 dancers into one video is new territory entirely.
A few LHS students have been wondering, "Will Sapphire be putting on a show this year?" Mrs. Jansen answers, "I don't know if Sapphire will. I'm just playing it day by day." If they do, it doesn't look like they'll be able to have a live audience." I am a little disappointed I don't get to experience competitions, or be in a show for sapphire but I still enjoy it over zoom. I'm just hopeful that I get to experience those things next year." Ximena Padilla Barajas, an LHS Junior and a brand new Sapphie, says during an interview.  Even though some things have been a letdown: the part of being a team, the friendship, and the comradery hasn't changed.
As we've seen, resilience is strong in Sapphire. Hope is still flourishing and the team's plans won't be stopped. Auditions for the team will be held in April. Those trying out will learn a step by step routine online – taught by Jansen – and then they'll perform it and send it in virtually. "If you don't audition, you won't make the team. But if you do audition, then you have a 50/50 chance. The only people that see your audition piece are me and the other judges. If you don't make it the first time: try again and try again." Jansen says, "You've got nothing to lose."
Our Sappies are going to daily Zoom practices and are performing virtually! If you want to watch any of their virtual performances, visit the link below, follow them on social media, and make sure to subscribe to their Youtube channel! These dancers really appreciate the support from their LHS peers during these hard times.
LHS Sapphire Dance Team:
LHS Sapphire Website: https://sites.google.com/lompocschools.org/lhssapphiredance/home
Instagram: @lhssapphiredance
Facebook: LHS Sapphire Dance
Youtube: https://www.youtube.com/channel/UCQuP4s9b9jCqBA2fXMiaqBw